Bad weather conditions, traffic, high volume orders, running out-of-stock, customs, etc., are some of the most common reasons for late delivery. Adding to that,
"No less than 84% of digital customers are worried about delayed delivery – shows an eCommerce research."
Hence, it is highly crucial for you to try and convince your worried customers about their order delay. Through this article, we guide you on how to explain a late delivery to a customer in easy steps.
Table of contents:
Benefits Of Explaining A Late Delivery To A Customer
When you communicate and explain about the late deliveries to your customers, it will help in strengthening positive customer relationships. As a result, increases your customer lifetime value (CLV) with your brand. There are multiple other benefits to providing prompt late delivery messages. They are
Regain customer's trust

– By giving honest information to your customer about late delivery, you rebuild confidence in your brand.

Avoid reputation hamper

– Since you timely inform your customers of delayed delivery even before they could experience it, you have avoided negative reviews being spread.

Improves customer satisfaction

– Providing quick explanations and updates to your customers will naturally increase customer satisfaction and customer retention rates.

Manage expectations

– Though late delivery may affect meeting your customer's expectations, explaining the late delivery will still do some damage control. Furthermore, when you provide better service the next time, you have satisfied your customer again.
Having discussed the benefits, we are sure you are eagerly waiting to learn the steps. Let's get straight to it.
Easy Steps To How To Tell A Customer Their Order Is Late 
#1 Be Honest
Give honest responses to your customers and explain why exactly there is a delay in their order delivery. Explain to them only the fact why their order is delayed and the appropriate actions your company is already taking to rectify the delay.
Check the example image below, the company sends order confirmation emails to its customers along with a prior delay notice due to the pandemic measures.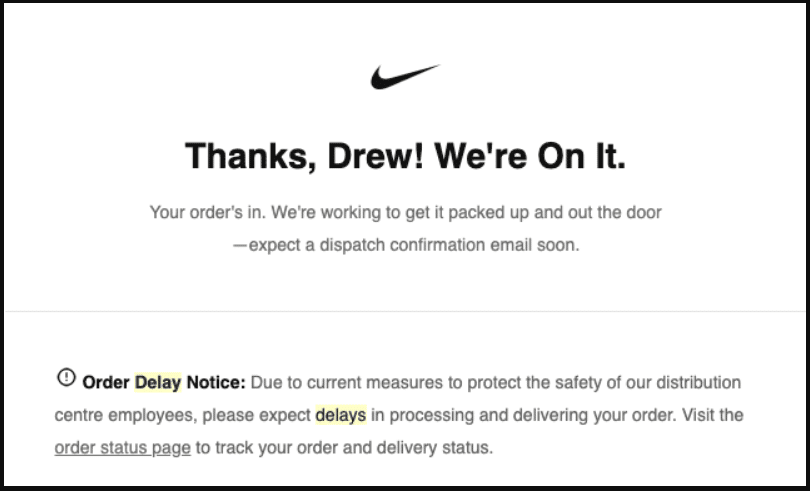 Even if you don't have an answer, let them know the same and also assure them a call back with a prompt answer.
[Go back to the table of contents]
#2 Don't Make False Promises
Because, when you promise something to your customer, and that goes wrong, it will make your customer unhappy. That will result in a bad reputation for your brand not only from that customer but 15 others as per Esteban Kolsky reports.
Alternatively, streamline your shipping process and try to give beforehand information to your customers on the estimated date/time of delivery. Like in the example below, you can also follow a similar email notification strategy to tell a customer you are running late.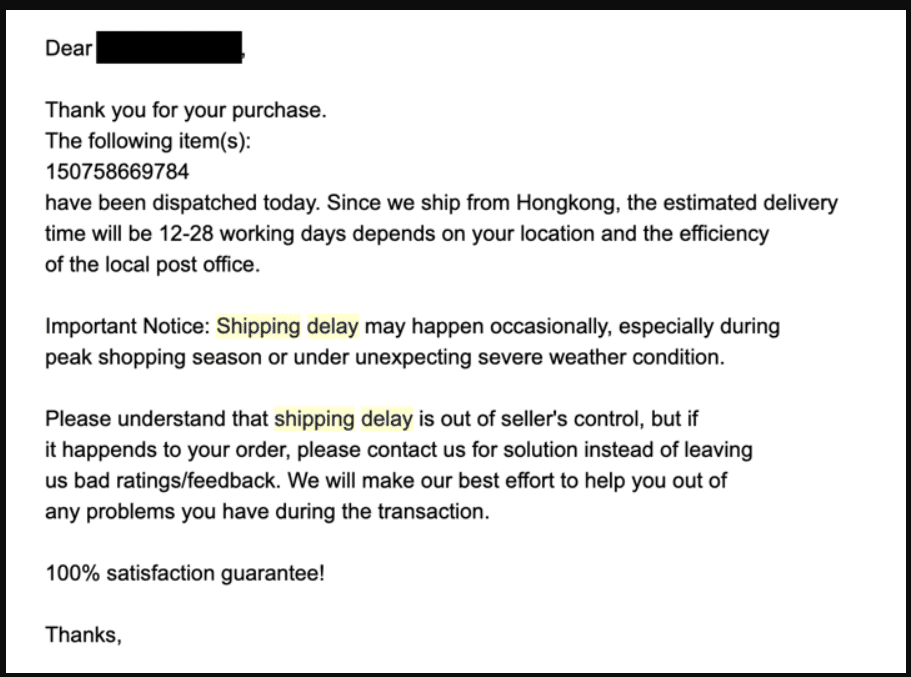 [Go back to the table of contents]
#3 Be Accountable And Apologize To Your Customer
Share your apologies with your customer and let them know about the sincere efforts you are putting into expediting his order.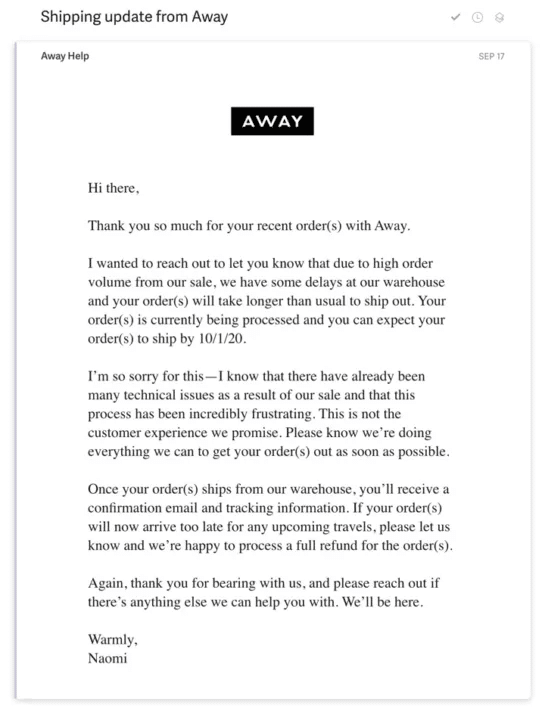 In the above picture, Awayy apologizes to its customer for the inconvenience caused due to the order delay. It also informs the customer about the tentative time taken for delivery. In addition to it, the company offers a full refund to the customer.
[Go back to the table of contents]
#4 Be Transparent About Delay Reasons
There could be some days/circumstances beyond human control like bad weather, heavy rains, and other natural calamities. Or you may even run out of stock. Acknowledge the same and send prior notifications to your customers about delivery delays. When you do so, your customers may understand and be less likely to quit doing business with you.
"People usually understand that carriers make mistakes, so when brands acknowledge that with transparency, consumers are less likely to get upset and reach out to their brand—or worse, tell their family and friends how terrible customer support was," says Yaw Aning, co-founder and CEO of Malomo.
Let us give you another example order delay notification from the eCommerce giant,
Amazon: "We're working hard to deliver your package, but severe weather in your area is causing some delays. We'll keep you updated on the status of your delivery."
[Go back to the table of contents]
#5 Reach Out To Your Unhappy Customers
Receiving negative reviews/comments about your brand on social media is not all that bad. For the reasons,
Bad experience

: You get to learn about your customer's bad experience with that particular product/service. In this case, "

late delivery

".

Positive response

: When you reply back to that comment/review positively, there are chances

you may win back that customer

along with many others who view that conversation.
Also, don't forget to thank them for their valuable feedback. Gently persuade them by assuring them that such delays will not occur again.
[Go back to the table of contents]
#6 Offer Quick Alternative Solutions/Compensation
As a company, you can track and find out the actual reason behind the late delivery. So if it is going to be bad news for your customer, try to offer him some kind of compensation like free shipping, special discounts on the next order, etc.
Read this Customer service message from Amazon expressing sorry for the late delivery and compensating the customer with a one-month free Prime subscription.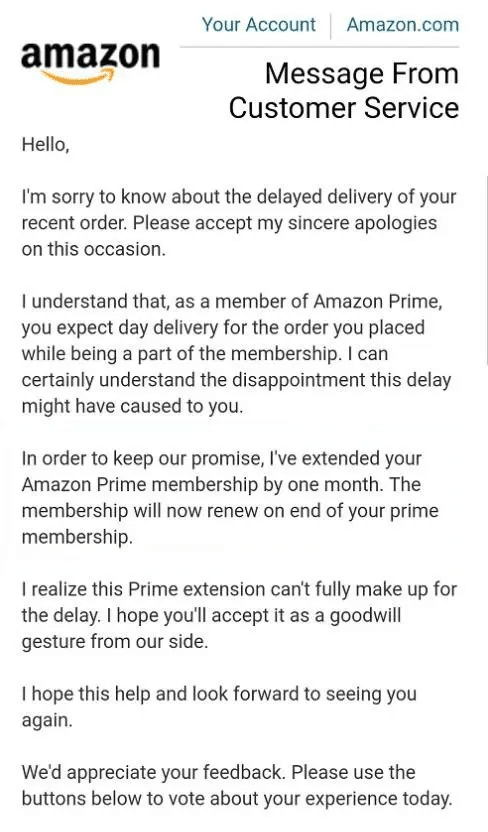 Such gestures from brands will positively convince the customers. And so, he will stay loyal to your brand and bring more business to you.
[Go back to the table of contents]
#7 Provide Proactive Customer Support
These days, 87% of US consumers want companies to be proactive in customer service.
Send prompt notifications to your customers informing them about the order delay. In addition to that, you can also request the next convenient date or time to deliver his product.
For example, "Your order is supposed to be delivered between 5pm-6pm. But due to heavy traffic in your area, there will be a slight delay in delivering your order. Please let us know if we can deliver your order tomorrow."
Also read: Why Do Companies Need To Be Proactive In Customer Service?
[Go back to the table of contents]
#8 Collect Feedback Post Delivery
Try to collect feedback from the customer after he receives the product in hand. This report will help you understand your customer's experience. Like, what convinced him to accept the late delivery? or how did he find your customer service response to late delivery? etc. It also helps you finetune your order fulfillment procedures to prevent future mishaps.
[Go back to the table of contents]
#9 Thank Your Customer
Finally, as a business, you ought to always feel and show your thankfulness to your customer. Especially, in such grave situations like 'delivery late', you should thank your customer for his patience, understanding, and cooperation.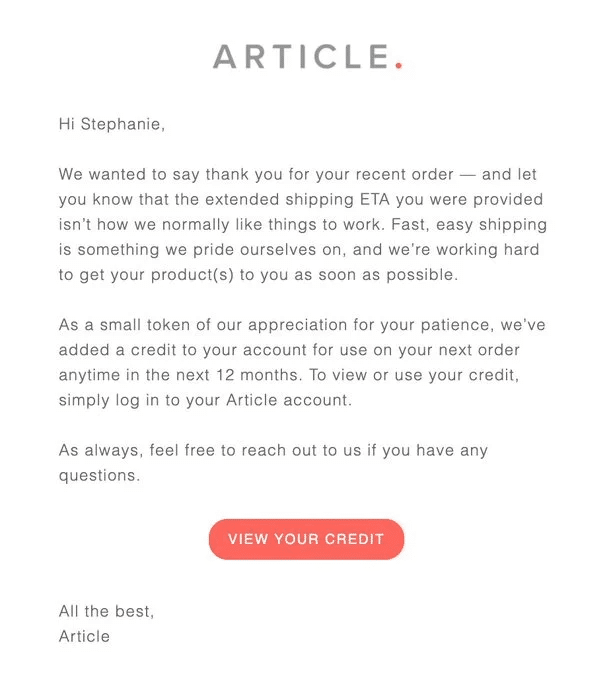 Not only that, closing a deal with a thank you note is a polite persuasion inviting a new business.
Eg: "Thank you for your patience and kind cooperation. Looking forward to serving you more."
With that, we are done with the easy practices for how to inform customer about delivery delays. As a bonus, we would like to add a small list of prominent shipping apps that can be useful to you.
[Go back to the table of contents]
List Of Shipping Apps
These are some of the best shipping apps that can help you manage real-time tracking of orders. Depending on the updates, you can plan how to tell a customer their order is late. 
EasyShip

ShipBob

ShipStation

MyCarrierTMS

ShippingEasy

EasyPost

AfterShip

Freightview

ShipTrack
Let us also quickly cover the different communication channels that you can use to convey your delivery delay to your customer.
Communication Channels You Can Use To Send Late Delivery Notifications
In the event of late delivery, you can send advance notifications to your customers in several ways as follows:
Email

– As per the Experian reports, the average transactional email open rate is a whopping

85%

. This shows that customers don't miss checking the follow-up emails from companies. So you can send

customer service response to late delivery

through email.

SMS

– The average open rate of text messages is even higher at

99%

as compared to emails. It is also found that people read the messages in under 15 minutes. Hence, using this medium to send your

delivery late

notification will be effective.

Social Media

– Social messaging platforms are also the quickest means of communicating with your customers, almost instantaneous. You can post updates with reasons to delay and alert your customers.

Website/App notifications

– There is a high chance that your customers have enabled settings to receive notifications from your website/app. Send pop-up notifications regarding their pending order delivery.

Automated phone calls

– Enabling an automated phone call system to notify your customers about late delivery is also a good idea. Using this way, you can also be sure of your message conveyed depending on the call acceptance rate.
Additionally, you can allow your customers to key in their responses or delay confirmation acceptance through all these mediums. Recording these responses will help you later in your analytics study to make necessary improvements.
Now you may think, to use these many tools, do you have to invest in all these? Not required. What if we tell you that you may find all these tools integrated along with an auto delay detect feature in one software?
Saufter's Auto Delay Detect Feature
Saufter Helpdesk is one of the best automated customer service solutions providers in the market. It comes with a unique functionality that automatically detects order delays.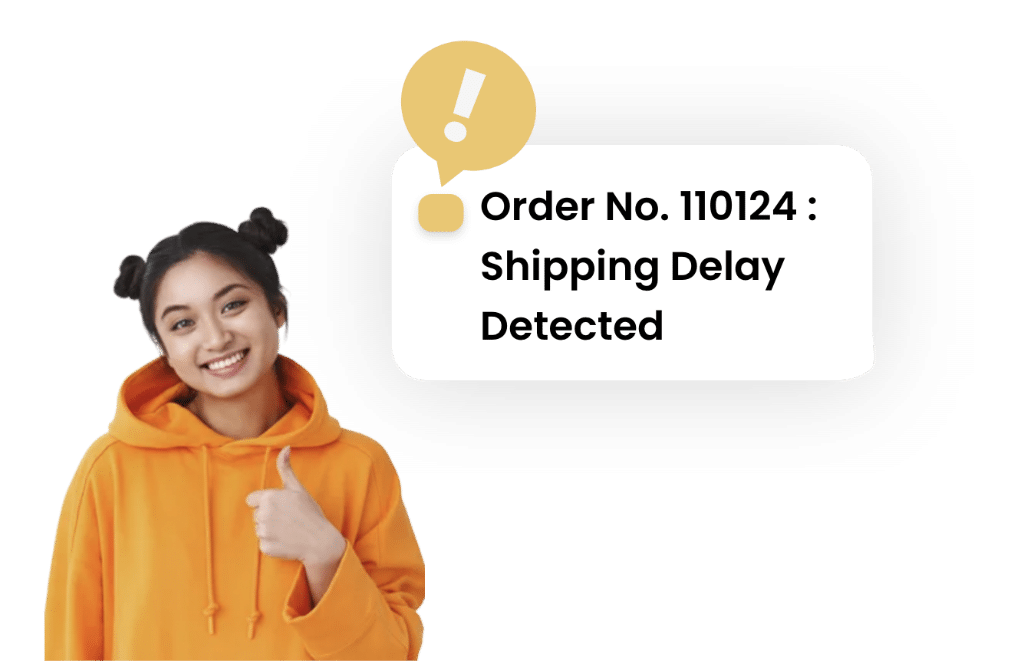 Read below to know how it works.
24/7 order monitoring –

The software auto-scans all the orders every day.

Auto-detection

– In case of a delay in the delivery, the system automatically detects it and sends you notifications immediately.

Proactive support

– You, in turn, can inform the same to your customer proactively.

Integrations – Connects with all leading shipping and fulfillment services to get seamless tracking updates.
Automated resolution

– Its smart automation feature learns the order status and offers assistance to your customers accordingly. Based on several metrics, it provides appropriate solutions to the customers.
Saufter Helpdesk's Other Key Features
Along with the above-mentioned unique auto-detection feature, Saufter Helpdesk offers you many other eCommerce support tools.
Integrations

– Connects seamlessly with email, live chat, Shopify, and social media to scale your customer support across multiple channels.

Unified interface

– Organizes and shows your agents the entire customer journey from multiple channels in one single window to provide well-informed support services.

Automated self-service

– Lets your customers initiate returns/exchanges or modify orders on their own through the in-built branded portal.

Anti-refund strategies

– In-built AI algorithm understands your customer's returns reason and offers the best deals automatically. This tool is useful to convert returns into profitable sales.

Review Management

– Saufter Helpdesk is the only helpdesk to auto-collect positive customer reviews from Google and Trustpilot. Use these as your social proof on various platforms to invite more sales.

Empower your team

– Auto-train your support agents using this software. Or even better, hire tried and tested support professionals from Saufter easily with just a few clicks. Saves

$1000

s and time put into manpower acquisition and training.

Performance reports

– The real-time dashboard shows you up-to-the-minute reports on chat metrics, agents' performances, customer feedback, and more.
We suggest you visit the website once to know its full potential. Additionally, you can claim a 6 months free credit offer.
So How To Inform Customer About Delivery Delay?
You can now confidently explain to your customers the inevitable delay in many ways. Make use of the sample templates and examples that we have shared here for you. Try to custom-create your own customer service response to late delivery messages depending on the nature of your business.
Or simply subscribe to use Saufter Helpdesk's smart automation solutions to ease your work. It can prove to be a good fit for your eCommerce business as it integrates with all the required tech stack, provides you with the necessary automation, and comprehensive reports.