We can't deny that – In Ecommerce, the post-purchase customer experience is key to developing strong relationships with the customers.
According to studies, for 40% of consumers, post-purchase experience makes their online purchase experience more memorable. So businesses need to have a package tracking system to enable them to keep an eye on their orders as they traverse long distances to reach customers. AfterShip is such a solution!
But… AfterShip also has meant shortcomings that we have discussed in this post, making it a viable decision to look for AfterShip alternatives and competitors
In this post, we will cover the following:
What is AfterShip?
Aftership is an order tracking and multicarrier integration software wielded by numerous e-commerce companies. It has automation of the shipment tracking process and improves post-purchase customer experience via tracking. It supports USPS, FedEx, UPS, DHL, and 900+ carriers worldwide.
It can be integrated with most e-commerce platforms and marketplaces including Shopify, BigCommerce, Magento, Amazon, and Ebay.
Four Reasons to Look for an AfterShip Alternative
Lack of integration with new carriers: While Aftership ties up with a lot of carriers, it still struggles to integrate with new systems and carriers.
Bugs and crashes: Aftership has been known to face bugs and system crashes during the process of order creation. 
Real-time update issue: There are numerous occasions on which updating the tracking status is delayed. Once the order is picked up, tracking slows down significantly.
Lack of clarity on delivery date: AfterShip does not always provide a delivery date to customers before they place an order. It is largely only provided for tracking purposes.
Top 9 AfterShip Alternatives & Competitors
Saufter Helpdesk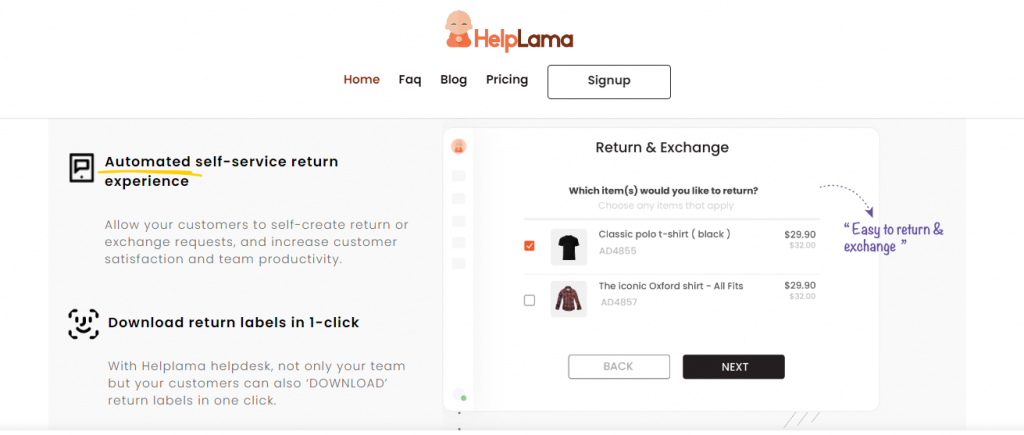 Saufter helpdesk is a complete e-commerce solution that can help you create the ideal post-purchase experience for your customers.
Like AfterShip, it can help you manage returns with its automated returns center.
But… it can do a lot of things that other returns management tools can't do! Saufter helpdesk is possibly the ONLY helpdesk that provides automated order scanning to track issues with deliveries, automated customer support agent training, automated collection of user reviews and UGC, and everything else that an e-commerce helpdesk usually provides.
So it's a great e-commerce tool worth trying.
Pros:
Timely intervention by a customer support agent during the tracking can earn you a loyal customer for life.

One-click integration option for Shopify, Magneto, WooCommerce, etc.

Let you manage all your customer service activities through a single platform.
Cons:
The automated returns center is available from the Pro Plan.
Saufter Helpdesk Pricing: Starts at $99/mo
The starter plan costs $99/month which includes access for 3 users as default. For each extra user, you will have to pay $29/month.
They offer a 14-day free trial as well. No credit card is required for trial.
ClickPost
(Overall rating ⭐️4.7/5,
28 reviews
)
ClickPost is a good AfterShip alternative that can help you manage your logistics – from shipping to delivery and returns.
It provides various plans for various processes including shipping, tracking, NDR, and returns management.

Pros:
Easy addition and deletion of courier partners.

Their reporting is excellent as they provide a great NDR dashboard and IVR features.
Cons:
No features for inventory management.

No open pricing and it can be expensive if you opt for the complete software.

Only suited for large and medium businesses with higher order volumes.
ClickPost Pricing: On-request
ClickPost doesn't offer fixed pricing plans. You would have to contact their support to get a quote. They offer a demo as well.
Shippo
(Overall rating ⭐️3.9/5,
39 reviews
)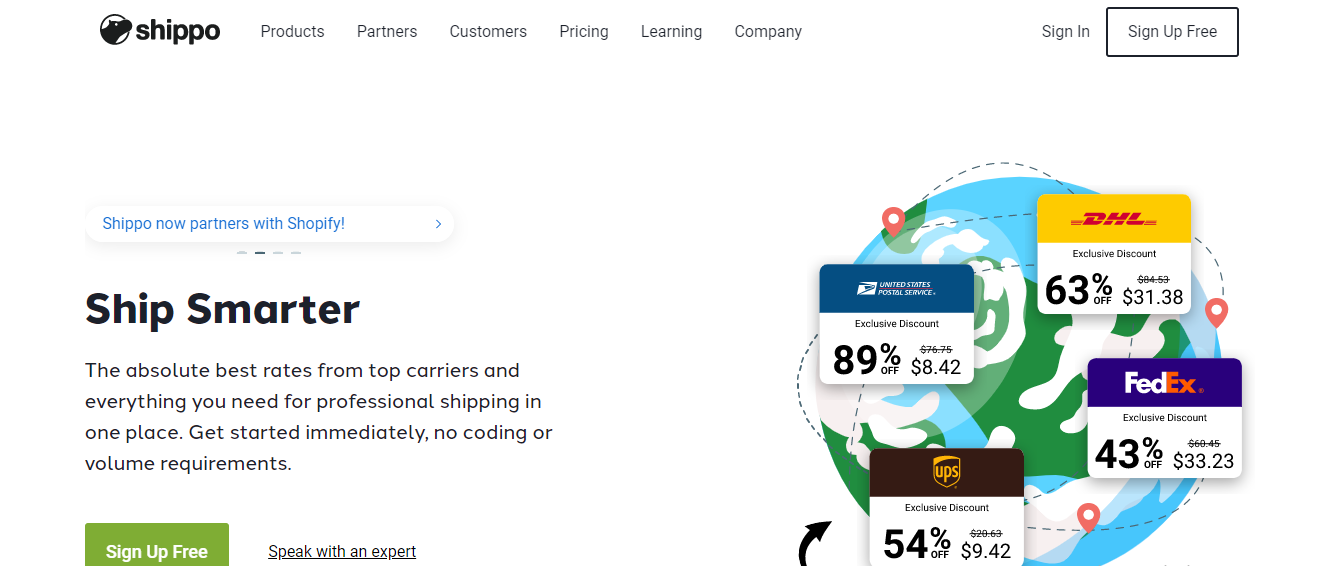 Shippo is an Aftership competitor as it helps e-commerce businesses, online marketplaces, and platforms integrate shipping with multiple carriers through their API and web application.
While AfterShip is known for its tracking features, Shippo stands out for overall shipping optimization.
Pros:
A unified platform that facilitates carrier rate comparisons to be carried out before selection.

In addition to a branded tracking page, email updates with tracking notifications are also shared with customers.
Cons:
Hidden charges.

Limited customer support.
Shipo Pricing: Starts at $10/mo
Shippo offers label-based pricing. The starter plan includes 60 labels for $10/month. You can also get a custom quote. They offer a 30-day free trial as well.
ShipStation
(Overall rating ⭐️4.3/5,
177 reviews
)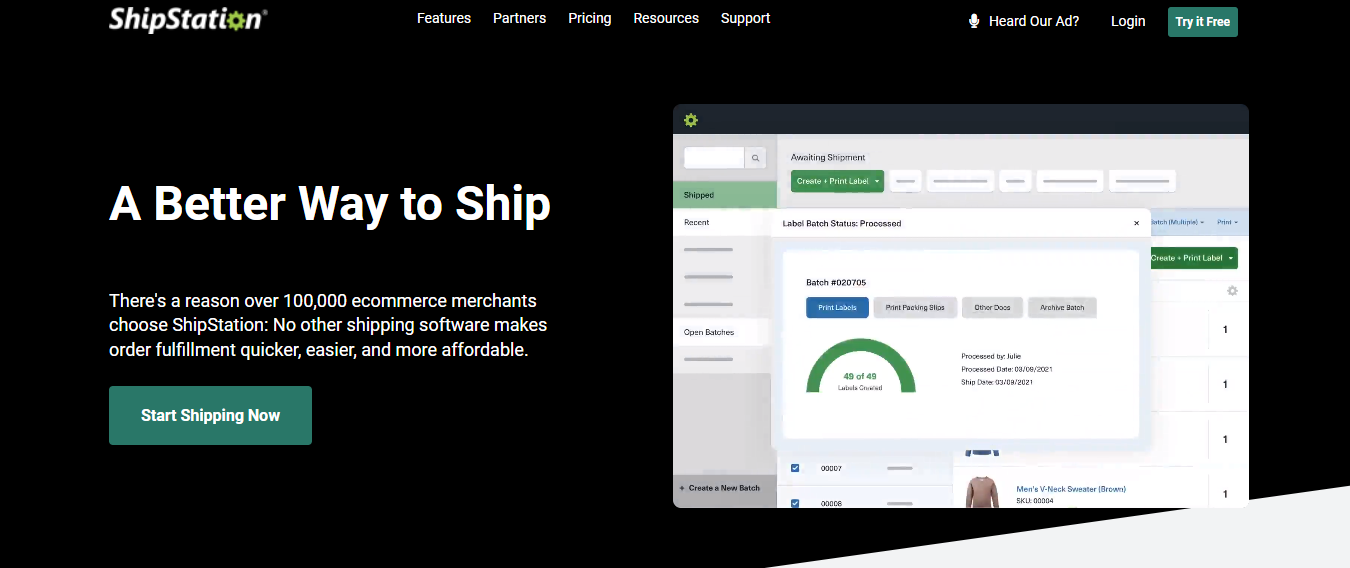 ShipStation is a platform that allows multi-carrier integration, order fulfillment, inventory management, and shipping hub for eCommerce businesses. This Aftership alternative provides a lot of integrations and automations.
From orders management to shipping and inventory management, it can help you with many processes.
Pros:
Shipping labels can be printed in bulk and at discounted shipping rates.

Integrates with 70+ carriers and selling platforms.
Cons:
Poorly reviewed customer service.

No option for returns management.

Limited support to manage glitches.

Can't add customs info for orders manually created in ShipStation.
ShipStation Pricing: Starts at $9.99/mo
ShipStation also offers shipment-based pricing that starts at $9.99/mo including 50 shipments and access for one user. For additional users, you will have to pay $5/month/user.
They offer a 30-day free trial.
ParcelPerform
(Overall rating ⭐️4/5,
1 review
)
Parcel Perform enables modern e-commerce enterprises to create unique end-to-end customer journeys and optimize logistics operations with data integrations, parcel tracking, delivery notifications, and logistics performance reports in real-time.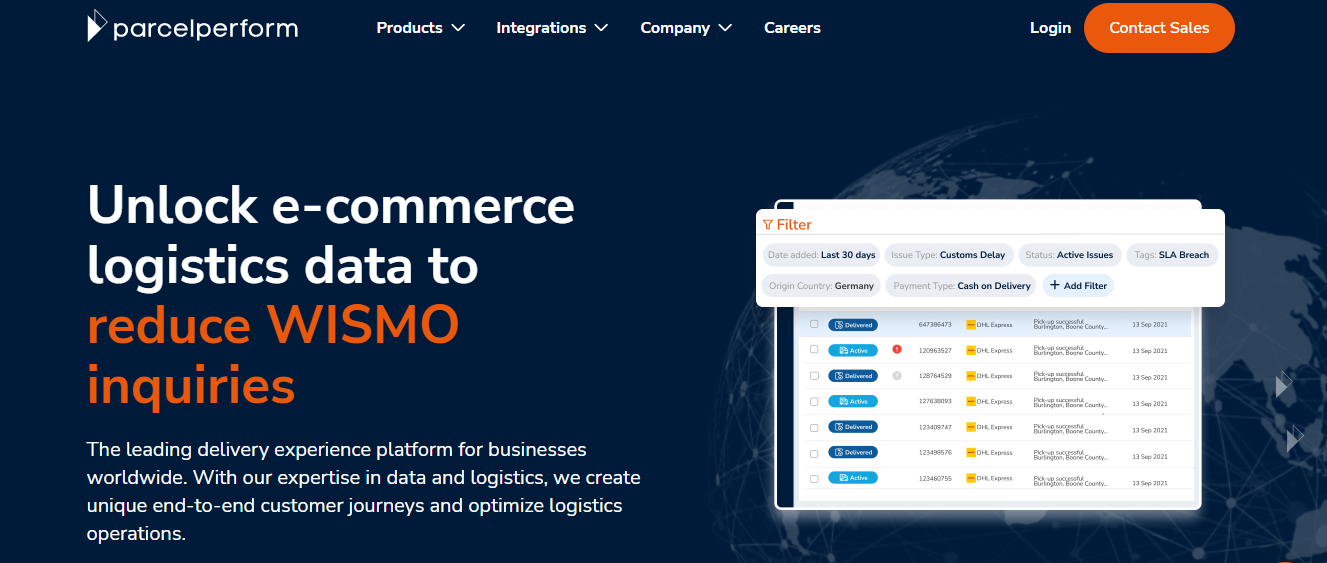 Pros:
Increased responsiveness reduces WISMO calls.

Integrations include 600+ global carriers and supporting platforms.
Cons:
Prone to frequent bugs and glitches while handling high order volumes.

It doesn't allow you to enable product recommendations and cross-selling abilities on your platform.
ParcelPerform Pricing: On request
ParcelPerform offers custom pricing based on features you need. You would have to contact their sales to get a quote.
Narvar
(Overall rating ⭐️4.3/5,
8 reviews
)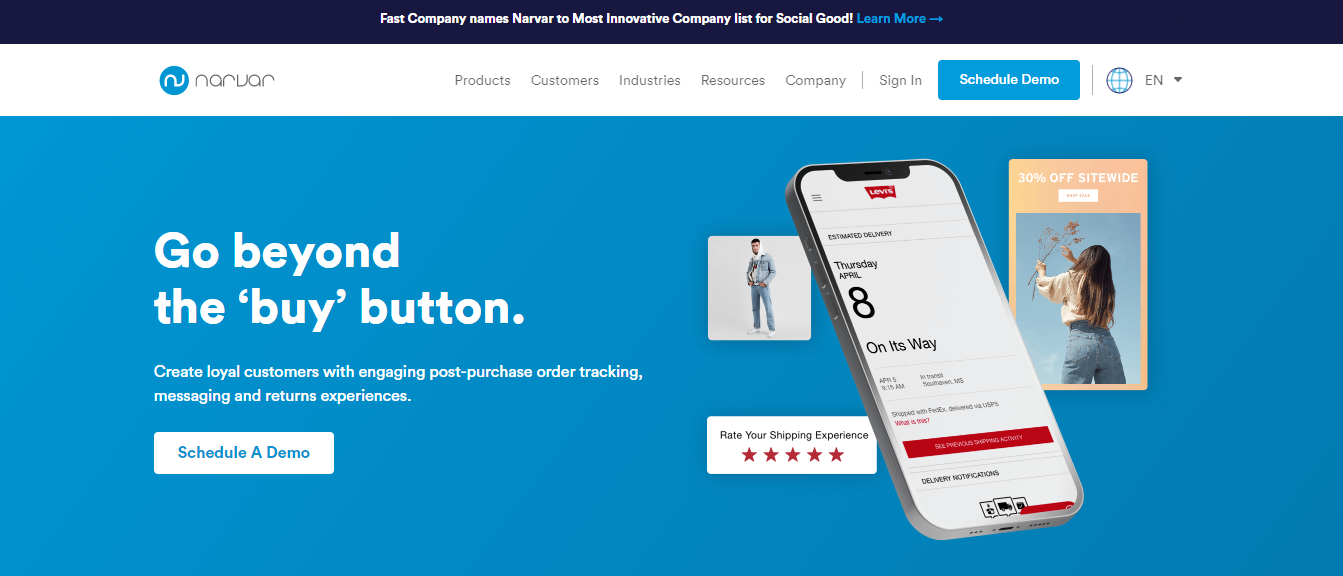 Narvar is a great e-commerce software that can help you integrate your physical and online stores.
It's a good AfterShip alternative because it can also help you with its products – Ship, Track, Notify, Exchange, and Monitor as well.
Pros:
Narvar provides a service that enables orders to be picked up by customers from Concierge stations.

You can customize various features like the returns portal.
Does not provides open pricing plans.
Cons:
Sometimes order tracking notifications are not received in real-time.
Narvar Pricing: Custom
Narvar offers custom feature-based pricing. You just need to fill in basic details to get a quote on pricing and schedule the demo.
WeSupplyLabs
(Overall rating ⭐️4.5/5,
1 review
)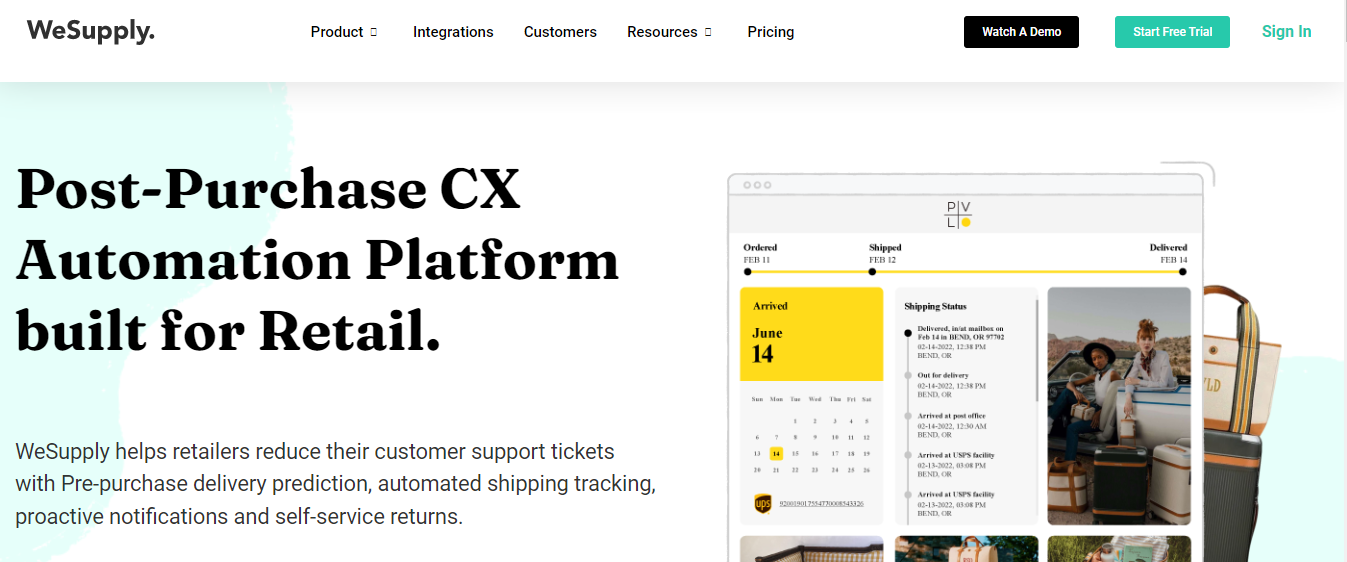 WeSupplyLabs comes with an effortless package for logistics management including order tracking, notifications, returns management, and post-purchase analytics as well, ensuring a seamless post-purchase experience.
Pros:
Gives a branded tracking page and a branded returns portal.

Automatically sends tracking updates to customers

The estimated delivery date is displayed before purchase.
Cons:
Doesn't allow you to choose the courier partner for your returns.

Very slow carrier integrations.
WeSupplyLabs Pricing: Starts at $9/month
A lifetime free plan is available with limited access. The starter plan that costs $9/month includes up to 300 shipments. For more shipments, you need to pay $0.03/shipment.
They also provide a 14-day free trial for the paid plan.
EasyShip
(Overall rating ⭐️4/5,
63 reviews
)
EasyShip, an alternative to AfterShip, is a shipping platform that connects sellers and marketplaces to couriers.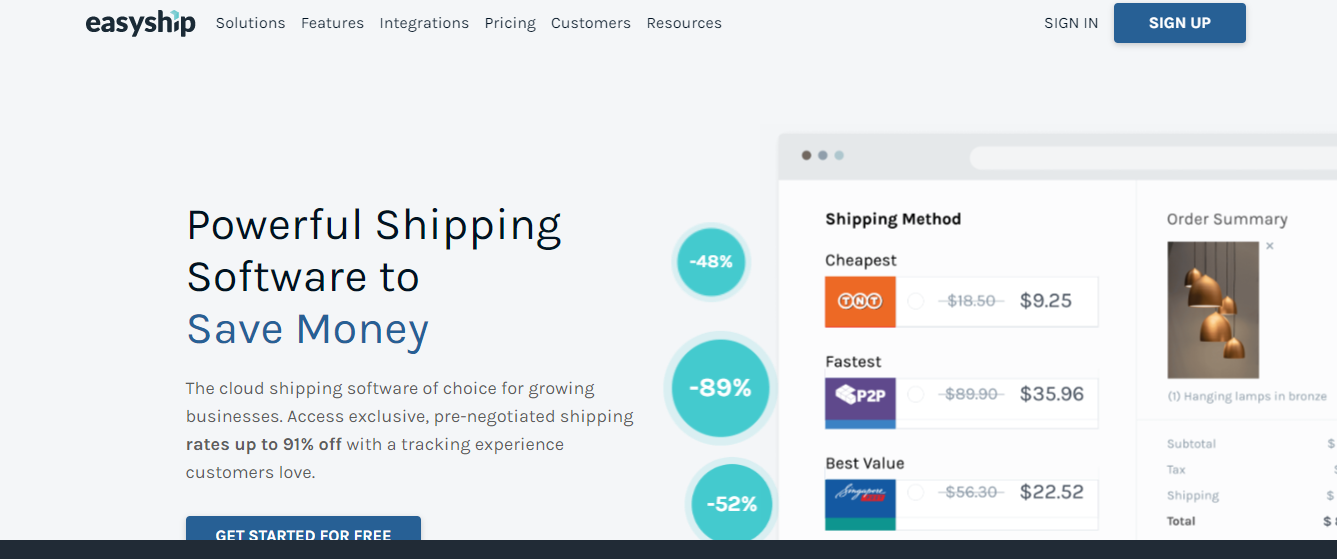 Pros:
It does multiple shipments at one time and sends the labels and invoices in one file.

For merchants who do not have storage facilities, it offers warehousing services. 
Cons:
Easyship supports merchants and businesses based in only a selected number of countries.

On three of its four plans, it has placed a limit on the number of shipments you can process in a month.
EasyShip Pricing: Starts at $29/mo
Offers a free plan with up to 100 shipments. After that, you can opt for paid plans starting at $29/month including 500 shipments. They offer a 30-day free trial as well.
Convey
(Overall rating ⭐️4.6/5,
300 reviews
)
Convey is a shipping software that improves the post-purchase customer experience using integrations and predictive analysis. It can help reduce operational costs by providing in-depth analytics on shipping performance, customer feedback, and any areas of business you need information on.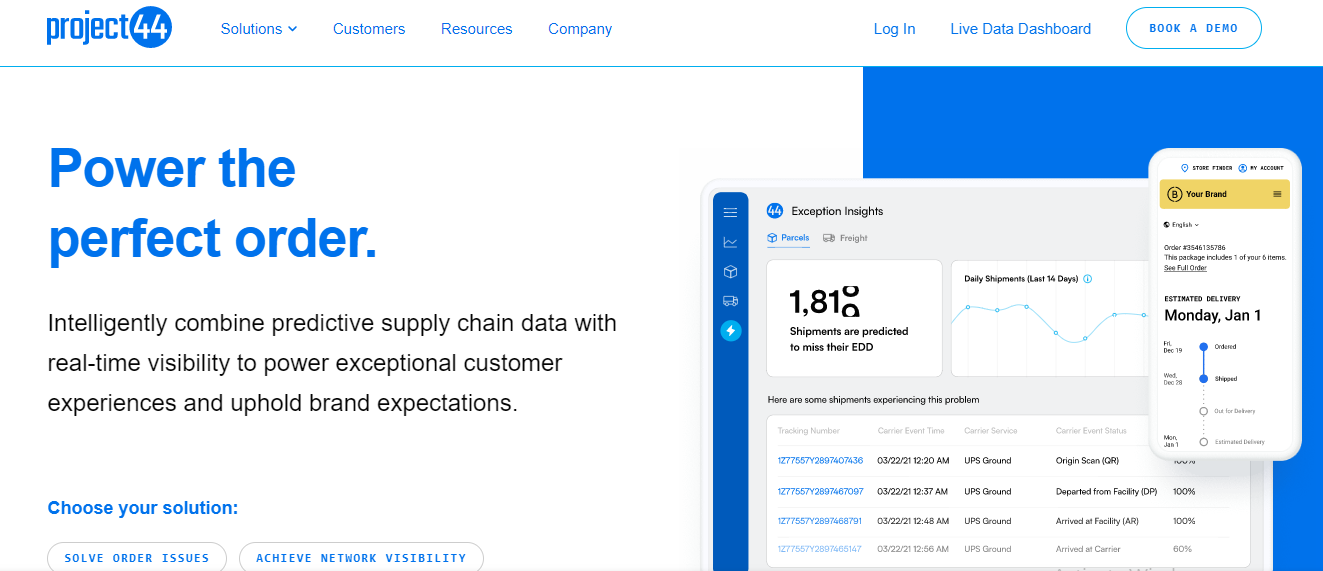 Pros:
Prediction of estimated delivery dates can be displayed on your e-commerce platform.

Quick responses to customer inquiries.
Cons:
No returns management.

Limited brand promotion.
Convey Pricing: On request
Convey offers custom pricing based on client needs. You would need to fill out their form to get a quote and demo.
Conclusion
When choosing a brand, 58 percent of buyers find the post-purchase experience to be the most significant parameter. So post-purchase customer experience should be prioritized over customer acquisition.
So, we hope you got the best AfterShip alternative for your e-commerce business needs.
Also, Saufter Helpdesk would be a great tool for your e-commerce store.
Start your free trial now! No credit card is required.