Managing e-commerce returns is one of the most complicated tasks in ecommerce when running an online store. Returns, if not managed the right way, increase your team's workload, and mess up customer journey and your store's metrics.
As per studies, it is common for customers to return products within days as their preferences change. According to Shopify, ecommerce returns were as high as 42% last year. In the ecommerce space, this trend is commonly known as "buy to try."
So how to handle customer returns? Manage ecommerce returns effectively, and this is what this guide is all about.
Table of Contents:
Trend/State of Ecommerce Returns in 2022
Return rates across industries
Products are returned across all e-commerce categories. Have a look at the data below:

Automotive

retail industry deals with a maximum return rate of

19.4%

, followed by

apparel

at a

12.2%

return rate.

Overall,

10.6%

of products are returned across industries.

The

hard goods

industry has the lowest return rate at just

3.8%,

followed by the

beauty

products industry with a

4.3%

return rate.

Products purchased using

credit cards

are returned the most at around

23 percent

, and products purchased using

debit cards

are returned

7 percent

only.
What is the return rate for brick-and-mortar stores?
According to studies, 20% of online purchased products are returned compared to just 9% of products bought in-store. This means that brick-and-mortar stores have a lower return rate than online stores, which could be due to various factors such as customers being able to see, touch, and try the products before buying them.
Common reasons for returns
Consumer preference-based returns tend to drive a large percentage – 72% of returns in the fashion industry. On the other hand, non-preference-based returns (e.g., defective, not as described, etc.) count for just 10% of returns.
Size too small: 30%

Size too large: 22%

Changed my mind: 12%

Style: 8%

Not as described: 5%

Defective: 5%

Other or not specified: 18%
Ecommerce returns during the holiday season
The holiday season remains the most popular time of year for e-commerce shopping.
But 30% of online holiday shoppers make a purchase with intention of returning it later, according to National Retail Federation. Returns can be due to the gifts that friends do not like or maybe shoppers trying to reclaim some money spent on the holiday-inspired spree.
When do e-commerce businesses receive the majority of returns? A whopping 80.65% of products are returned in January, the most amount of returns e-commerce businesses receive in a year.
Cost of returns to online retailers
Data suggests that the costs of returns to online retailers can be as high as 65% of the total selling price.
When a product is returned, a retailer has to incur the following costs:
Labor:

Includes customer service, shipping, warehousing, restocking, reselling, etc.

Reselling:

Repair or refurbishment of returned merchandise, and repacking and remarketing.

Damaged goods:

If the product is damaged and unusable, the retailer has to bear the cost of the product and the return as well.

Transportation:

Cost of getting goods back from customers – shipping services, packaging, and labels.
Here's an estimate of the cost the retailer has to bear when products are returned: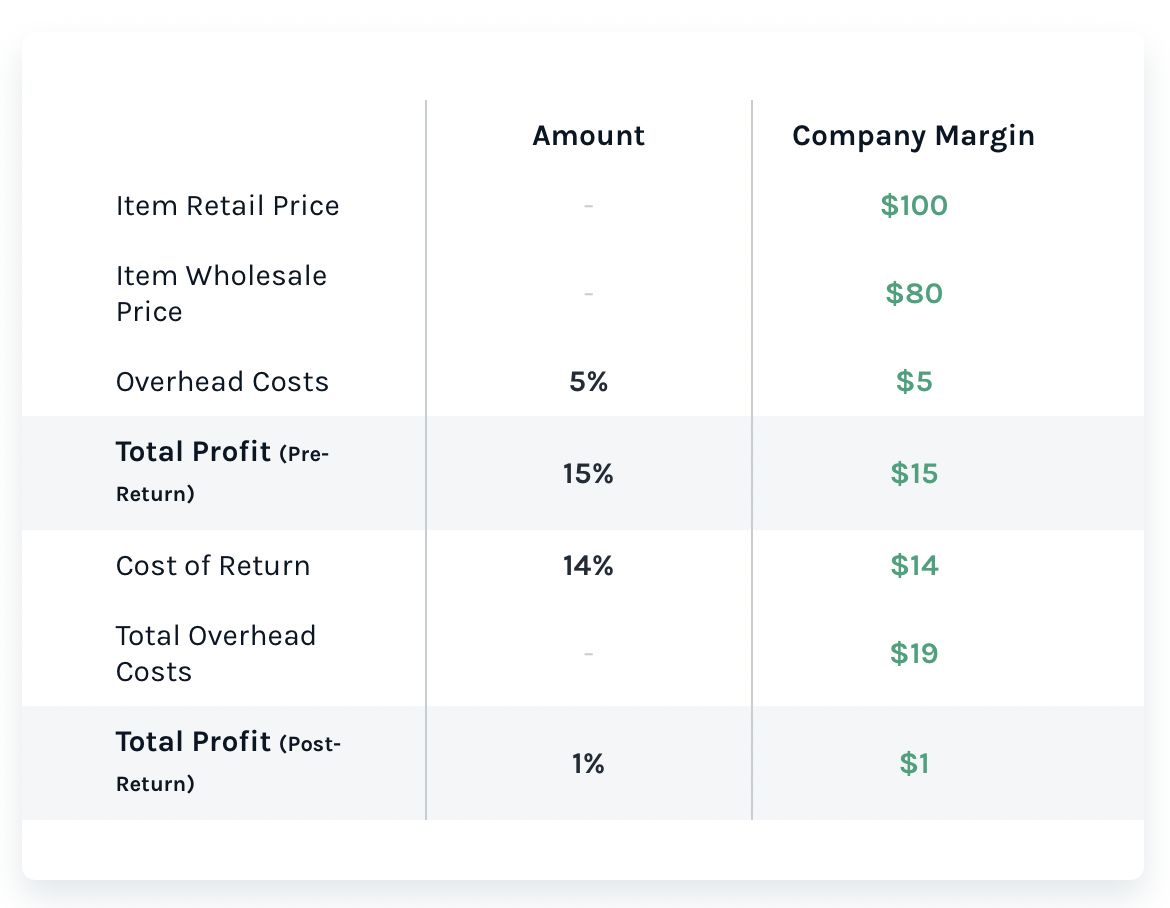 What is a good rate of return in e-commerce?
Return rate helps you calculate the frequency of your business orders that are returned.
How to calculate the return rate?

For example, if you received and fulfilled 1000 orders in the year 2021, and 200 of them were returned.
Therefore, your ecommerce return rate = (200 / 1000) X 100 = 20%
So what is a good return rate? Any percentage below the average rate of return in your industry can be considered as good, and vice versa.
For example, if you're in the apparel industry and your store's rate of return is below the industry average of 12.2% return rate, then it is good. Otherwise, you need to improve your returns management.
How to Reduce Returns in Ecommerce?
Ecommerce returns can't be avoided but they can be reduced. Here are some of the best ways to reduce returns in ecommerce:
1. Build your e-commerce return policy
Building a transparent, easily accessible, and customer-friendly return policy is the key to reducing returns in e-commerce. To build a great returns policy, you need to figure out how to get your products back from customers without being used or damaged, and then process refunds on time. Not having a good returns policy can hurt your customer base.
As per studies, 51% of online shoppers say that they avoid retailers with a strict return policy.
Here are a few of the many benefits of having a good returns policy in place:
Builds customer trust

Increased conversions and purchases

Increase in customer lifetime value

Repeat purchases

Decreased costs

Decreased customers churn

Decreased costs
Without any further ado, let's have a look at three easy steps to build an ecommerce return policy for small businesses and large enterprises:
Step 1:
Write a returns policy for your store
The return policy of your store will depend on the type of business and industry you are in, and the products you sell on your e-commerce store. But, customers should easily be able to figure out how to return a package.
Here are 7 points you should consider to create a good eCommerce return policy template for your store: 
Decide if you'll offer returns only

, or exchange/store credit, too

Create a time limit for returns

– 30 days is standard, but some stores offer up to 90 days

Outline guidelines for returns

– for example, goods must be in original packaging with tags attached

Decide whether you can offer free returns

, or if you'll charge for this

Figure out how to provide a return label

, and whether it will be a prepaid return label with the return address already printed on it

Outline a step-by-step return process

Make sure to

include other important information

the customer will want to know, like:

How long it will take to process their return

Contact information

Whether they'll need to pay processing fees
Step 2:
Communicating your return policy
Integrating your return policy throughout the customer journey is crucial. A customer-centric return policy can be more than a customer service tool. And your policy can also become a powerful marketing tool if used well.
How to know if your policy is communicated well and easily accessible? Your customers should easily be able to figure out how to return a package to your store.
The best way to do this is to embed your policy to several visited places on your website and throughout the purchase process. This way, customers can't say they simply didn't see it. This will help set the right expectations before a purchase is made.
To make your return policy easy to find, here are a few places where you should link your policy:
As a static header or footer on your website
On an FAQ page
Within product pages
In carts
At checkout, before hitting purchase
Links to begin the return process on tracking pages and email
From your shipping policy
Note: Depending on your store's size, create a sample return policy for small businesses or large businesses before making it go live.
Step 3:
Automate the return process
Reverse logistics can become a pain point for your eCommerce business if you are doing it manually. 
You need to account for the postage cost of the items being sent to a vendor, restocked, and discarded, as well as the human capital that goes into these operations.
So, automate the returns process! Returns will become much easier if you consider outsourcing or automating manual and repetitive processes. 
Here are a few parts of the returns process that can be automated:
Customers can start the returns process through

an online returns page
Use a chatbot

to answer customers' inquiries through your website

Use scan-based return labels

so you can easily reenter the returned product into your saleable stock

Use tracking data to notify customers

that their returns have arrived and their refund is being processed

Utilize an Inventory-management system (IMS)

or

order-management system (OMS)

, to manage inventory levels, order fulfillment, and rectify stock with sales across channels.

Work with a third-party logistics provider, to outsource fulfillment.
Create helpful and clear product descriptions
It's a standard and crucial practice to check if all the public-facing content (including product descriptions) is accurate and detailed.
There's a high chance of a product being returned if it is described differently than the real product. So, make sure to create helpful, clear, and transparent product descriptions.
To reduce returns and improve conversions, you should make sure the following information is included on every product page across your ecommerce site:
Product weight and dimensions
Materials used

to make the product 

Size guides

, including the size a model is wearing (if appropriate)

Your ecommerce returns policy

(i.e., how long they have to return an item, any costs associated with it, and the types of product eligible for return)
Tip: Add user reviews and testimonials to your product pages. Data suggests that 72% of shoppers trust user reviews as much as personal recommendations.
Offer exchanges and store credit in your return policy
Exchanges can help you reduce a significant amount of returns. As I mentioned earlier, 72% of returns are caused due to customer-preference-based reasons – size, color, fit, style, changed mind, etc. To deal with such types of preference-based returns, you can offer them exchanges.
The cost of returns can be reduced by allowing your customers to exchange the delivered product with another product of their choice. This can help you encourage more sales and keep the revenue.
Pro Tip: You can incentivize them to opt for exchanges instead of returns.
Another way to reduce returns or say, ensure repurchase is to offer "instant store credits" as a refund option along with a refund back to the source of the payment.
Pack and ship items securely
Your responsibility doesn't get over until the products are delivered to your customers securely. That's because around 30% of items are returned because they arrived faulty or damaged.
You wouldn't ship them in that state. That means something went wrong in transit. Well, your logistics partner plays a big role in this.
So you need to make sure that the products are packed and shipped securely. Here are some steps you can take to minimize the chances of an item becoming broken or faulty through shipping—and therefore, being returned:
Inspect every item

of clothing before it's dispatched to a customer

Use protective material

, such as bubble wrap, in a delicate package

Add Fragile labels to parcels

with easily breakable items inside (like glass)

Use the correct parcel size

so items don't jolt around in transit
Make your returns process sustainable 
Data shows that around 75% of customers intend to shop more with retailers that are making their returns process more sustainable. Another 71% would be willing to pay more to return with a sustainable option. 
But most companies' existing returns policy doesn't ensure sustainability. It's estimated that return shipping in the US alone creates 15 million tonnes of carbon emissions per year. That's the same amount produced by five million people. 
In short, prevent the likelihood of returns to reduce your ecommerce brand's carbon footprint. The fewer packages that come your way, the less fuel and resources you use. 
One way to ensure sustainability is to opt for a "box-free returns" policy. In this, customers can go to return bars near them and return the products without packing and shipping them. But also, building a return bar network can be overwhelming to establish and not possible for small businesses.
Protect Your Business Against Ecommerce Return Fraud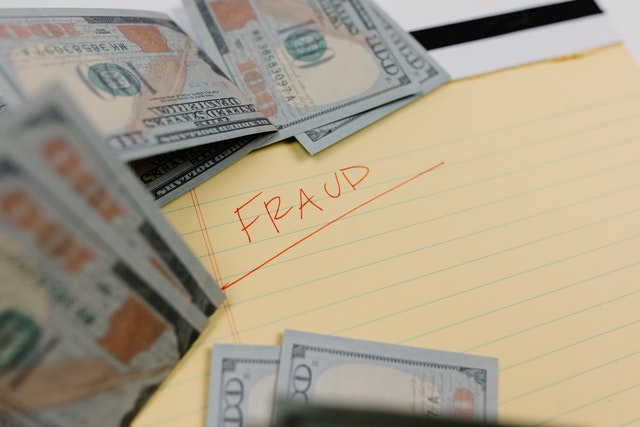 You should know that for every $100 in returned merchandise, retailers lose $5.90 to return fraud. And it is costing US retailers more than $18 billion a year and happens when people return stolen items, claim an item never arrived, or use the item and return it later.
So it's crucial for you to categorize the types of returners and track them if you want to protect your business from return frauds. 
Here are some of the best practices to protect your e-commerce business from return frauds:
Enhance your return policies
Your returns policy should make it clear what products can be returned and what can't be sent back, as well as what supporting documents (e.g., receipts, packaging, etc.) they need.
Consider the following questions when creating or enhancing your return policy:
Does the customer need proof of purchase (e.g., receipts or confirmation codes) with returns?

Does the customer receive a refund in the method they paid with, or do they receive store credit?

Who pays for return shipping?

How long does the customer have to make returns (e.g., 30 days, 60 days, etc.)

Are there any restrictions?

What documents does the customer need to send back?
Keep Accurate Records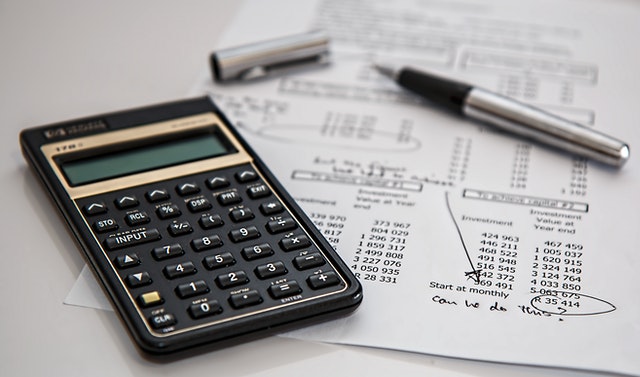 Keeping a record of what customers are ordering and what they return is vital to prevent returns frauds.
That is because without accurate tracking of sales, returns, and inventory, in general, you won't be able to investigate the cases of the return.
So Make sure:
Count your inventory regularly
Mark products that you sell
Require customers to create an account before they checkout
Use tracking numbers and barcodes to verify if the products is yours
Take Shipping Precautions
You should take every shipping precaution you can to protect your products when they are shipped and under process.
Using the tracking numbers, keep track of your shipped merchandise to know their exact location and when they are delivered. Ask your logistics partner to take customer signatures at the time of delivery if possible because the customer signature can act as proof of delivery and help you verify the case.
Tip: Some e-commerce businesses require customers to provide OTP sent to them to accept the delivery which makes sure that the product is received by the customer only. 
Identify Fraudulent Customer
Some of your customers might be just buying your products to use and returning them when the purpose is fulfilled. This is especially true in the apparel industry where a significant – 12.2 percent of products are returned on average.
So make sure to keep an eye on your customers that return the products often. Here's how you can track suspicious return activity:
Require your customers to create an account to complete a purchase
Keep track of their purchase journey
Identify customers that return the products often
Inspect their buying behavior
Block the accounts with suspicious buying and returning behavior
It's better not to fulfill orders of the customers who exploit your consumer-friendly returns policy.
Tools that can make returns easy
1.
Saufter
Starts at $99/month/3 users; a 15-day free trial
A help desk built specifically for e-commerce, Saufter Helpdesk can be a total e-commerce solution for your business. From helpdesk ticketing to automating returns, and tracking order delays, Saufter can allow you to provide an exceptional customer experience.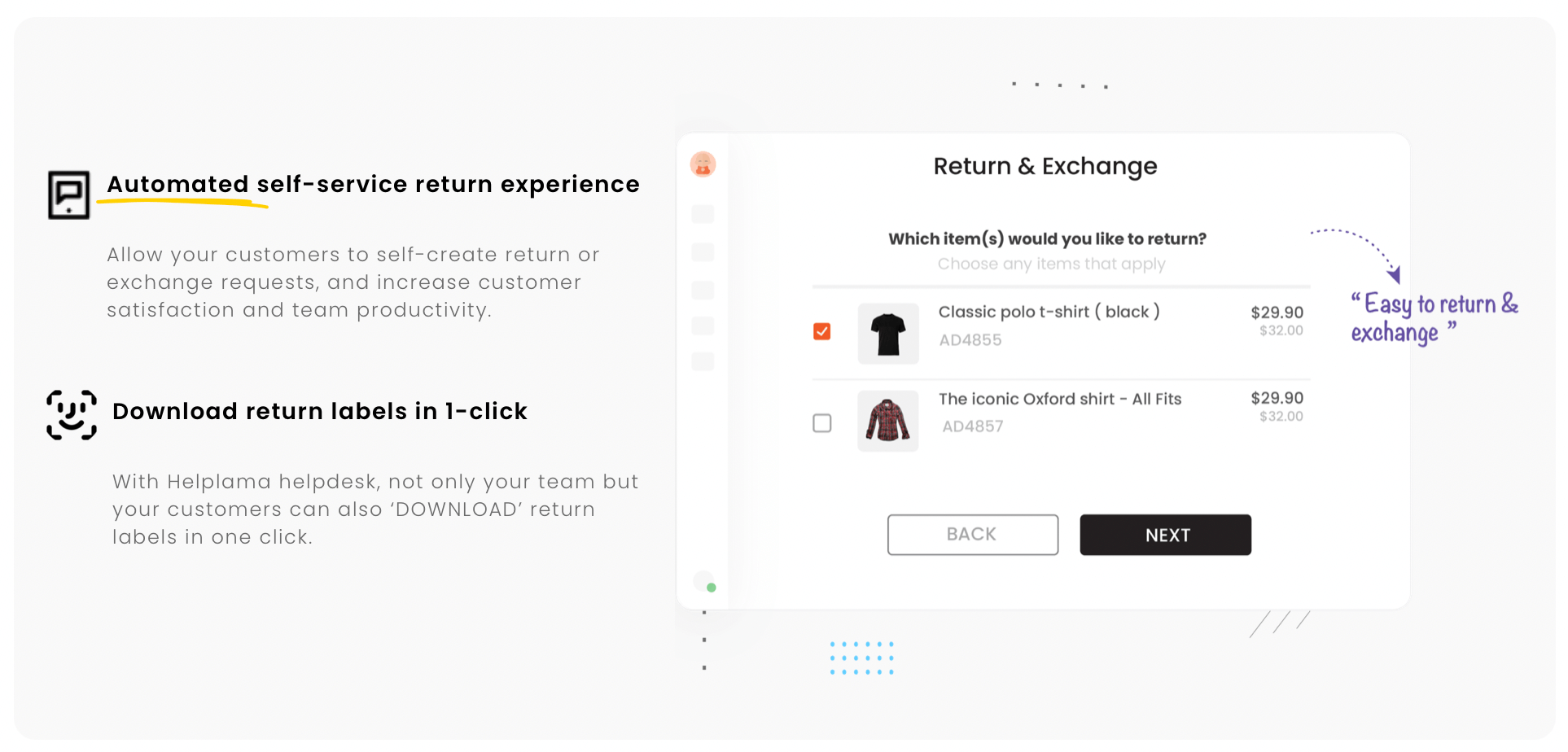 Automated returns center:

Provides your customers with a self-service returns center where they can create returns/exchanges and download return labels without contacting your customer support. Moreover, they can use live chat to do the same.

Order tracking:

You can track the order status from shipment to delivery within the same platform.

Automated order scanning:

It scans orders for delivery delays, allowing you to proactively communicate with your customer, and ultimately,  reducing the chances of returns.

All Help desk features:

Other than ecommerce exclusive features, Saufter also provides all the help desk and ticketing features that customer service tools usually provide.
If you are already using customer support software, you can switch to Saufter to have an all-in-one e-commerce software experience rather than using multiple software and paying more.
2.
Happy Returns
$500/month; minimum 2000 returns
Happy returns is a returns management software built on the "box-free returns" idea. The reverse logistics company has 5000+ return bars in the US. Customers can reach these return bars to return the products without packing and printing the return labels.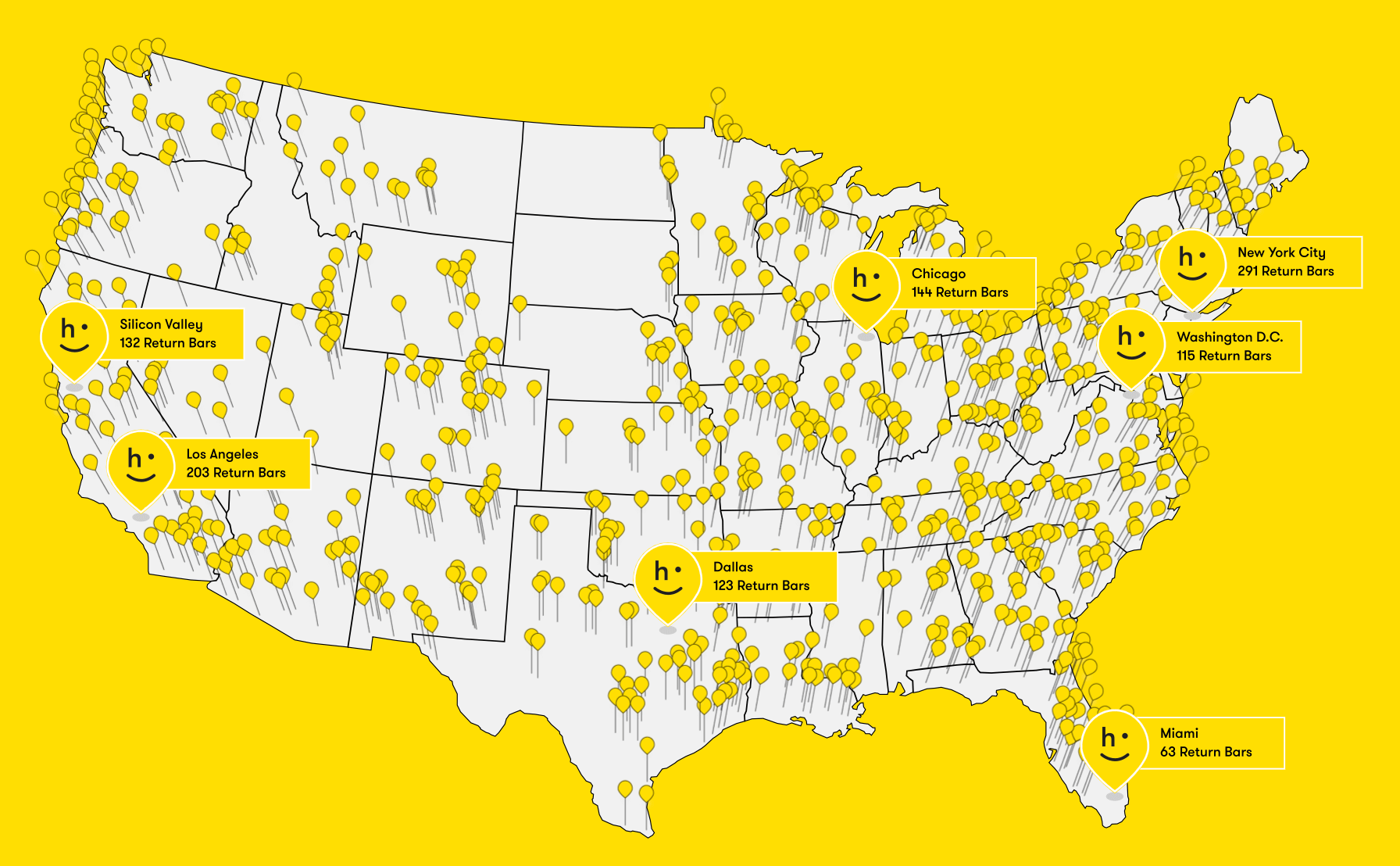 Box-free returns
Save cost

. Happy returns claims to save 40% of merchants' returns costs.

Promote exchanges.

You can provide an exchange option if relevant products are available on a return bar.

Initiate instant refunds.

Refunds are initiated instantly when products are handed over at a return bar.
If you run an established e-commerce business with over 2000 returns monthly, and your customer base is in the US only, Happy Returns can be a good return partner for you.
3.
Loop Returns
Starts at $165/mo for 1,000 returns/yr
Loop is a great returns management platform that focuses on converting returns into exchanges, helping e-commerce businesses save lost revenue and scale.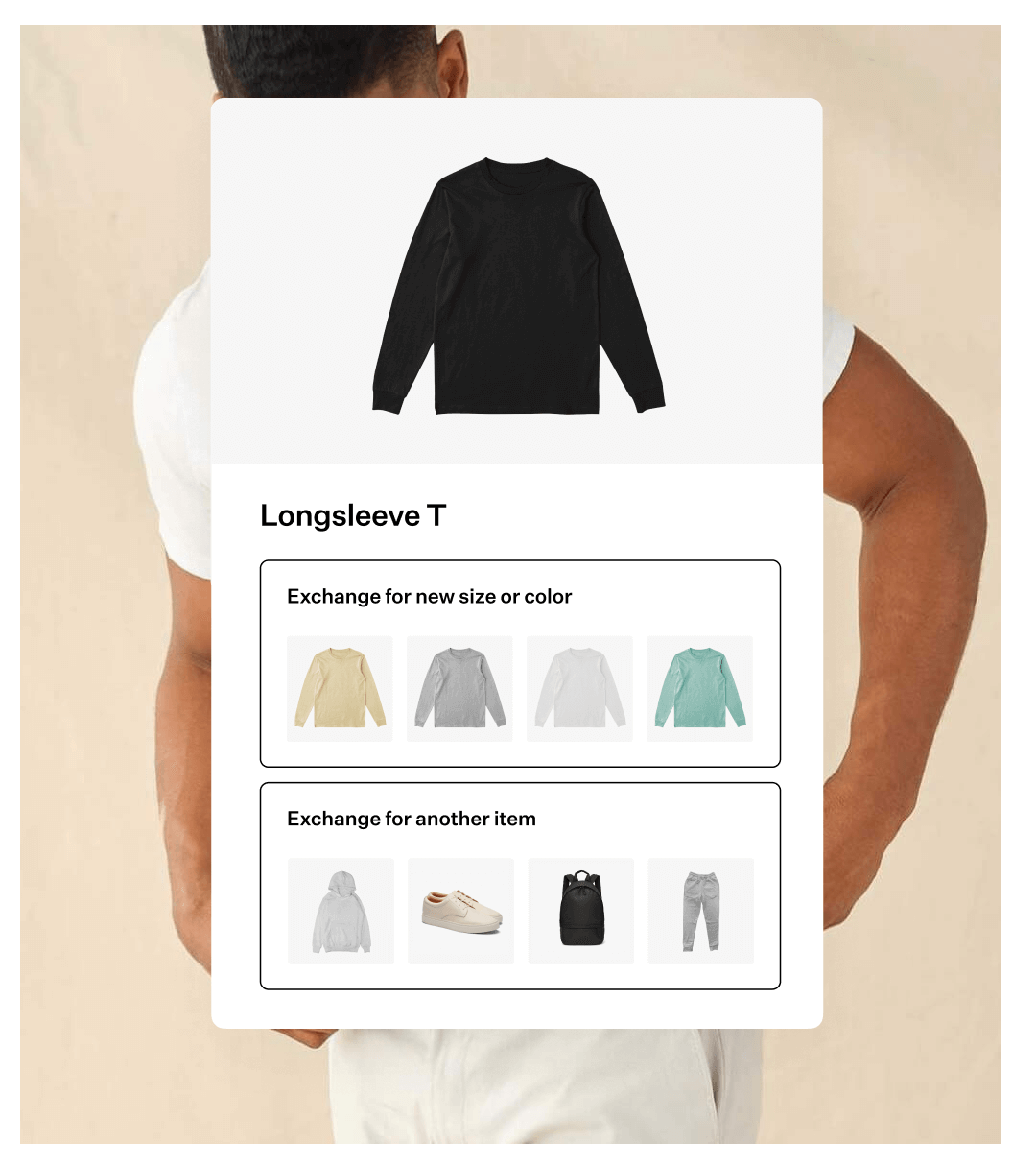 What loop does to promote exchanges? Customers submitting a return are incentivized to exchange the item, rather than return it. They can exchange an item for another size or color in one click. 
And if a customer still wants a refund for their purchase, Loop helps retailers streamline their returns process. It uses data from a returns form and your returns policy to automatically approve or deny requests. 
We like Loop because it is incredibly user-friendly, so it's super easy for customers to return items. We like this because it makes us look good and lets the customer leave with a positive experience. Because of the way that it's set up, it makes it easy to swap out returns for other products in our shop, which helps keep the customer and the money. — Lanai Moliterno of livesozy.com
Example of Return Policy & Processes
1. The Adventure Challenge
RETURN POLICY:
We are happy to help you with a return if you reach out within 30-days of your delivery date and your item has not been used!
If plastic wrap is no longer intact, but the product has not been used we are able to accept returns on the product!
Please reach out to support@theadventurechallenge.com or click on our chat to begin the return or exchange process. We accept returns by the date you reach out, so if one of our team members does not contact you until after 30 days, do not worry, we will still help you out!
Once your return has been processed by our fulfillment center, we will refund you for the returned item(s) minus the cost of the original shipping, to your original method of payment. All refund recipients will receive an email confirmation for their records.
EXCHANGE POLICY:
We would love to help get you the product that is right for you! We are able to do exchanges on products that are eligible for returns (within 30 days of delivery and unused).
The process will begin as a return but once the return is on its way back to us, as proven by the tracking updates, we can begin the exchange process. Please note, that you will be responsible for the shipping of the exchanged item.
We will refund you or send you an invoice depending on the price difference between your original product and the one you are hoping to exchange. Once the invoice has been paid we will ship out your exchanged order!
Why "The Adventure Challenge" Policy Works:
Clearly explains the return cutoffs and requirements for different scenarios.

Contact information is shared to get the return process started.

The exchange policy is clearly defined in addition to the returns policy, letting customers get the right products they want.
2.
BAKblade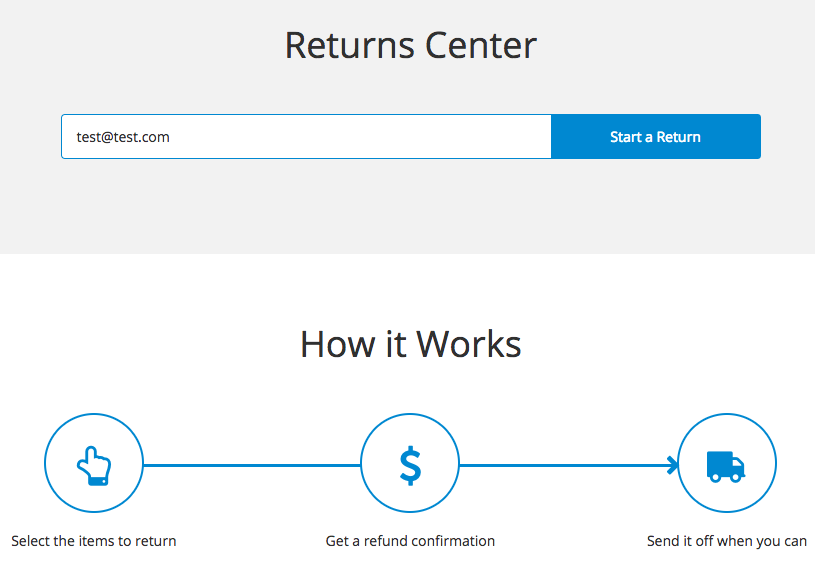 Why it works:
Automated self-service returns center that allows customers to create returns/exchanges without contacting BAKblade's customer support.
To create an automated returns center, you can use the Saufter. It even allows customers to create returns through live chat on your website.
3.
Brummell Co.
RETURNS POLICY
If you are not satisfied with your Brummell purchase you may return your purchase to us within 30 days for a full refund.
Your product must be unworn and still have tags attached for a refund.
To return your items, Follow these steps:
1. Repackage your products
2. Email us with your intent to return your purchase at info@brummellco.com
3. We'll email you back with a return label
4. Print out this label and affix it to your package with the purchase
5. Drop off at your nearest post office
Please allow up to 5 business days for your refund to process once the returned product is received by our warehouse.
Why it works:
Precise and easy to understand

Step-by-step instructions to process the return

Clear terms and conditions
Conclusion
Returns are inevitable, but they can be managed! Create and enhance your returns policy, regularly track your returns rate, use practices to reduce the return rate, and keep track of your customers to prevent your business from fraud.
Therefore, returns management should definitely be a crucial part of your e-commerce operations.
If you feel overwhelmed, you can use a good tool like Saufter to manage and automate the returns process and reduce manual workload. It can help you with many other e-commerce operations including customer support.
Start your 15-day free trial now! No credit card is required.